6250 Quinpool Road Halifax, Nova Scotia B3L 1A3 Canada
Tel:   (902) 425-2808 Fax: (902) 425-5223
Heartwood's Lunch and Dinner Buffet
New at Heartwood!
We've added
kamut-crust pizza
to our menu.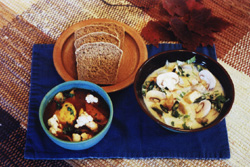 Heartwood's Original Roasted Tofu Stroganoff (right) and Spicy Cauliflower Italiano (left)
The buffet includes a soup-du-jour, numerous cold salads, a variety of delicious hot dishes, brown rice, and steamed greens.
Our menu changes daily and you will find vegan, vegetarian, wheat-free and gluten-free selections. We use organic ingredients whenever possible, from local producers, to provide you with a delicious selection of wholesome meals.
By using a self-serve pay-by-weight system for most of the food, you can choose as much or as little as you like.
Discover what an alive, nutritious organic salad is all about! Some of our regular salads include:
Roasted Potato Salad
Saucy Noodle Salad
Minty Quinoa Tabouli
Our Famous Guacamole!
Marinated Tofu and Roasted Squash Salad
Greek Salad
Basilly Broccoli and Cauliflower Salad
| | |
| --- | --- |
| Dilly Basmati Tabouli | Our Own Classic Greek Salad |
Some of our regular hot dishes include:

Roast Marinated Tofu in Coconut Sauce
Savory Bean Pie
Wild Rice Pilaf
Samosa Pie
Broccoli Almondine
Moussaka

Vegetable Curry