6250 Quinpool Road Halifax, Nova Scotia B3L 1A3 Canada
Tel:   (902) 425-2808 Fax: (902) 425-5223
Heartwood's True Sourdough Breads
Our regular variety of breads includes:
kamut
pumpernickel
rye
rye/spelt
spelt
spelt seed
spelt raisin
whole wheat
whole wheat raisin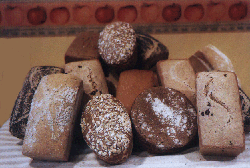 Our 100% organic sourdough breads, hand-crafted with Speerville Mills' organic grains and flours, are our speciality!  We offer a variety of hearty, delicious wheat and wheat-free breads.
All of our breads are leavened with a traditional sourdough culture (produced from a controlled fermentation of flour and water).  This process partially breaks down the starches and bran, resulting in a delicious bread that is easier to digest.
No commerical yeasts are used in any of our products!  In addition, all of our breads are dairy, egg, oil, and sugar-free (a small amount of unrefined corn oil is used to oil the bread pans).
We also sell our bread at:
Barrington St. Market Superstore, Halifax
Braemar Market Superstore, Dartmouth
Bridgewater Superstore, Bridgewater
Cape Breton Healing Center, Sydney
Cole Harbour Superstore, Dartmouth
Great Ocean Natural Foods, Halifax
Joseph Howe Drive Market Superstore, Halifax
Portland St. Market Superstore, Dartmouth
Quinpool Road Market Superstore, Halifax
Truro Superstore