Hours:
Open Monday-Saturday 10am to 8pm
Closed Sundays
No Smoking
Payment:
Interac
Visa
MasterCard
Cash
Reservations:
Not Required
NEW at Heartwood!
Heartwood is now licensed - come in and enjoy a beer with our new kamut-crust pizza.
Heartwood Bakery and Cafe is dedicated to providing organic sourdough breads and organic vegetarian foods, using only fresh and natural unprocessed ingredients.
Heartwood strives to maintain the highest nutritional standards in the food we serve.
A full line of sourdough breads and organic foods suited to those with special dietary needs are available. Special orders are welcome.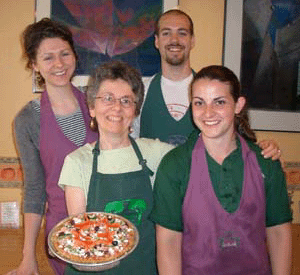 Heartwood Bakery & Cafe has developed a loyal following since owner Laura Bishop first opened the restaurant's doors in 1995. Come in and sample some of our unique and wholesome foods. You'll discover for yourself why people keep coming back to Heartwood.
email: contact@heartwoodbakerycafe.ca
While visiting Heartwood, you'll be surrounded by the work of our talented local artists!